7 Best Quality Local Products In Nigeria

The real sector in any economy is very critical. It is the engine that drives economic development, creates employment, builds a nation's wealth and facilitates its speedy development. Because the real sector creates wealth as noted already through the transformation of raw materials to finished products for domestic consumption and export, it reflects the true state of a nation's productive capacity and the simplest way of understanding her level of development. A nation with a weak manufacturing sector, will as a matter of fact depend on others for her basic needs through imports. The direct implication being that it hangs on the danger of being a dumping ground for foreign goods, which consequently weakens to a great extent its currency, its capacity to generate an auto-centric growth, create employment and stimulate overall development.

A nation with a well-developed manufacturing sector harvests the benefits of backward and forward linkages. All advanced countries of the world are reaping the benefits of sustained economic growth because of the extent of the development of the real (manufacturing) sector. As a matter of fact, the gap that exists between rich and poor countries is found in the state of this sector, the level of technology employed here, the quality of manpower available, etc. That less developed nations are now making efforts to stimulate or even revamp the manufacturing sector shows how deep they have come to realize its vital role in the facilitation of industrialization.

These efforts have started yielding results at different levels already. One of such is the multiple sprout of manufacturing industries and outlets in the form of Small and Medium Scale Enterprises (SME's).Like in many developed climes, these SME's have proven to be very critical in  the drive towards economic growth through its contributions to the Gross Domestic Product (GDP), creation of employment, encouragement of entrepreneurial skills, etc. As we reel out the merits of these SME's, it is worthy of note to state that the major issue with most of these industries is the quality of their products. Most do not adhere to standards. Their products are everything but quality. This hinders the acceptability of these products in both local and international markets, which in turn limits their ability for expansion and maximization of profits. It is for this reason that this work focuses on the 7 best quality local products in Nigeria.

They are as follows:
INNOSON (IVM G80) SUV
Innoson IVM G80 SUV is one of the top quality made in Nigeria product. This car was made with the best international standards. It can compete with any latest model of SUV manufactured by any of the global auto-mobile manufacturing brand anywhere in the world. The car has the following Specifications: Varient-4*4, Length-(mm)-47650, width (mm)-1890, Seat-5, Height (mm) 2005, Engine capacity: – 4*4-2.4L, Curb Weight-kg 2285-2295, Capacity (L)-2.4. The car has low chances of overheating, fuel economy, reinforced shock absorber and rugged performance.
2. Dolls Leather Products
Dolls Leather Product comes as another top quality local products in Nigeria. The production of this product started in 2017.Dolls leather works mainly focuses o the manufacturing of male and female footwears and accessories. Its brand of footwear is mainly flat padded shoes and sandals. It has grown and expanded into making other leather works like belts, wallets and bags. This brand is increasingly becoming more and more popular and gaining acceptance among thousands of customers nationwide. The company is located at Western Avenue, Surulere, and Lagos State.
3. M'Aku Palm Oil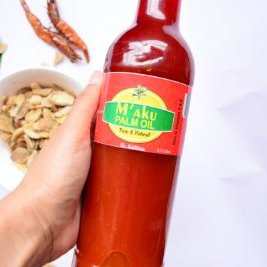 Another top quality local product in Nigeria is M'Aku Palm Oil.This product because of it quality has become a household name in Nigeria. Produced with the best standards in an ultra-modern mill under high sanitary conditions, M'Aku Palm oil contains the right ingredients for your satisfaction and nourishment
4. Nasco Cornflakes
Nasco corn flakes is another high quality product in Nigeria. The cornflake is highly nutritious and rich in vitamins. It was manufactured with the consideration of the nutritional needs of both children and adults alike. This product is made by NASCO Group Nigeria. Nasco Cornflakes is enriched with B vitamin that were lost during the manufacturing process and fortified with additional vitamins not normally present in corn including vitamin D and vitamin B-12. It contain 10 percent to 15 percent of the recommended dietary allowance or RDA of Vitamin A, C or D for an adult on a 2000 – calorie diet and over 20 percent of the RDA of thiamin, folic acis, B-12, niacin, riboflavin and vitamin B-6. It is enjoy with milk, dry fruits and sometimes with sugar.
Indomie Noodles
Indomie Noodles comes as another high quality product in Nigeria. This brand of noodle has become a household name in Nigeria owing to its delightful taste and wholesomeness. It is known for its quality and consumed by millions within and outside Nigeria. The production of indomie started in 1988and has been a great success story ever since. Owned by  Dufil Group, which  comprises of Dufil Prima Foods Plc. and its six subsidiaries – namely: De united Foods Industries Limited (Nigeria & Ghana), Northern Noodles Limited, Pure Flour Mills Limited, Insignia Print Technology LFTZ Enterprise and Raffles Oil LFTZ Enterprise. This instant noddle has many brands like Indomie chicken. Indomie hungry man size, etc.
Ankara
Ankara textile is also a top quality local product in Nigeria. The textile product has gained wide acceptance in Nigeria because of it quality and durability. There are many styles made from it ranging from skirts and blouses, and even western designs like suites for both sexes etc. There is a high demand of these textile products by other West African countries and beyond.
Nasco Shortcake Biscuit
Nasco shortcake biscuit is also another quality local product in Nigeria. Manufactured by NASCO Group, the biscuit is rich in vitamins and also very nutritious. The biscuit is suitable for both children and adults.
Conclusion
We want to conclude by saying that though the above listed products are  of very good quality, they  cannot be said to be the only quality products in Nigeria. It must be noted here that there are several other  local products of very high quality which were not mentioned here.