7 Best Baby Milk Formulas in Nigeria

It is generally agreed that mother's milk is nature's best offer for the nourishment and proper healthy development of a baby. Heaps of research findings abound on which the above assertion is hinged. Amongst many benefits, mother's milk contains everything that is needed by the baby for at least the first six (6) month of life. The thick yellow substance released from the breast called colostrum which is rich in protein and low in sugar has been found to be very important for the baby because of its very useful components. Research has proven that mother's milk contains loads of antibodies which help to fight the numerous infections and diseases that attack the baby at the early stages of infancy. There is also the belief which has now been scientifically substantiated that mother's milk makes babies smarter owing to its speedy facilitation of the development of the brain. Breast milk also helps the baby to maintain a healthy weight. Apart from the above benefits babies derive from breast milk, mothers also gain a lot when they breastfeed. It has been established that breastfeeding helps mothers to lose weight, fight depression, maintain a good health through the reduction of the probability of breast and ovarian cancer, etc. This not forgetting the fact that exclusive breast feeding is very economical as it saves the mother the huge resources and time that would have gone into the purchase of baby food.

Though breast milk comes with loads of benefits, many  realities in today's world constantly stifles the possibility of its availability to the baby. Today, the adverse economic realities faced around the world have made many mothers of child bearing age to seek a career or vocation outside the home to augment the family's income. Besides this, most mothers in pursuit of careers have abandoned maternity. The few who are still available are not really willing to breastfeed, because having  been caught in the web of modernization, there is this tacit mien of not breast feeding in other to retain an attractive famine stature. The desire to provide an alternative to the above inspired this work on the seven (7) best baby milk formulae in Nigeria. They are as follows:

1.Enfamil Neuro Pro
Enfamil Neuro Pro baby formula is the best baby milk in Nigeria. The formula comes in two forms, liquid and powered form. The Powder product is available in 20.7 oz Tubs, 31.4 oz Refill Boxes and 17.6g Single Serve Packet Sticks. The Liquid form comes in 2 fl oz, 6 fl oz, 8 fl oz and 32 fl oz bottles. Enfamil Neuro Pro has a very rich nutritional value. It contains a brain building nutrients like Omega3 and has high immune properties PDX, GOS, etc.
2. S-26 Gold
S-26 Gold is the second best baby formula in Nigeria. The baby milk comes in three different stages: S-26 Gold Stage 1, for infants from 0-6 months. There is S-26 Gold Stage 2 for age 6-12 months and S-26 Gold from 1year- 3years.These formulae are packed with vitamins like: vitamin D for growth and development of the bones, vitamin A, for proper development of sight and vision. They also have other vital properties like DHA and AHA found in Omega 3. Also contains other properties like zinc and iron.
3. SMA Advanced First Infant Milk
SMA Advanced First Infant milk comes as the third best baby milk in Nigeria. It is said to be the best alternative to breast milk. Enriched with Omega3 and 6 LCP, the milk is made with protein that is easily digestible and quickly broken into smaller pieces. It also contain HMOs* (2'FL & LNnT).
4.  NAN OPTI PRO
This is the fourth best baby milk in Nigeria. The product is made by Nestle Foods. NAN OPTI PRO is made of three types: NAN OPTI PRO Gold 1,NAN OPTI PRO Gold 2 and NAN  OPTI PRO Toddler 3.These formulas contain very useful ingredients like Bifidus BL, Lipid Smart (DHA), Vitamins (A & D), and Minerals (Iron, Calcium, Zinc) needed for the proper development of the baby in formative years.
5. Cow and Gate First Infant Milk
Cow and Gate First Instant Milk is the fifth best baby milk in Nigeria. This formula is nutrition complete. It has DHA (Omega-3. It has other ingredients like: Lactose, Vegetable Oils (High Oleic Sunflower Oil, Coconut Oil, Rapeseed Oil, Skimmed milk, Demineralised Whey (from milk), Whey Concentrate (from milk), Galacto-Oligosaccharides (GOS) (from milk), Cow's milk protein, fish Oil, Calcium Phosphate, etc.
6. Lactogen
Nestle Lactogen is the sixth best baby milk formula in Nigeria. The formula has various categories for different age brackets. The milk is rich in vitamins and all the ingredients required for a baby's healthy growth and overall development from birth to early childhood.
7. Similac Baby Formula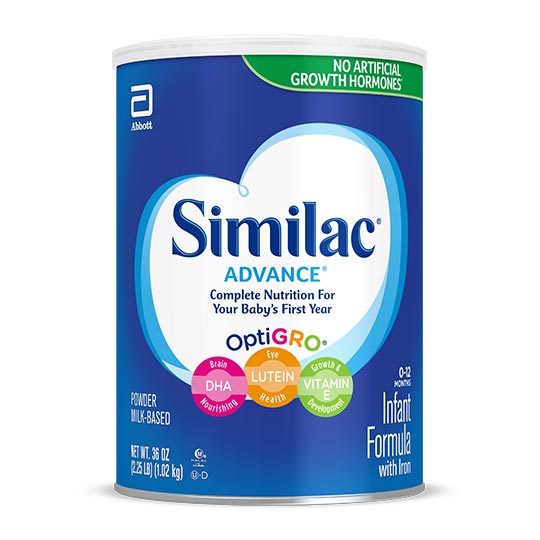 Similac baby formula comesas the seventh best baby milk formula inNigeria. The product has many brands: Similac Alimentum, Similac 360 Total Care, Similac Comfort etc. All designed to need babies with different nutritional needs. Similac generally comes with ingredients like: OptiGRO,  exclusive blend of DHA, Lutein and Vitamin E, special nutrients found in breast milk that are important for helping support baby's brain and eye development.